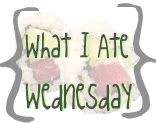 Join the party!
Cherries
Leftover Indian Spiced Roasted Vegetables w/Couscous & Sunflower Seeds
Carrot Chips
Sundried Tomato Hummus
Peach
Diet Pepsi (Bad Habit)
Nuts (mmmmmm)
MEXICAN!
Spinach Quesadilla
Cheese Enchilada
Rice
Refried Beans
*note-I did not eat this entire plate of food haha*
Chips & Cheese Dip
MARGARITA (in my official margarita plastic cup :D )
Truly a phenomenal day of eats :) Hope you all had a good day too!